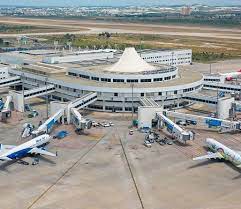 Antalya Airport Car Rental
Antalya, which is among the most visited tourism centers in Turkey, is a unique location where blue and green meet. There are many hotels and holiday facilities in the province, and visits to the city are continuous not only in summer but also in winter. Antalya Airport car rental services are in great demand in the city, which mostly hosts its visitors during the winter months due to company meetings. Main Antalya Airport rent a car office provides service to both domestic and foreign visitors with its flexible contracts and reasonable price policy, and provides all the advantages of its large fleet.



Within the scope of daily, weekly or monthly rental agreements, customers can access the brand uninterruptedly for 7 days and 24 hours. If you have decided to visit this beautiful city for vacation or business purposes, you can choose from Main Antalya Airport rental car options; You can choose the one that best meets your needs. If you are undecided at this point, you can apply to Main expertise and get professional consultancy service.


All Roads Are Yours with Main
You can guarantee comfortable journeys by choosing the Main difference for Antalya Airport car rental service. If you have a limited time, you can freely draw your travel route and enjoy your trip. Thanks to the early reservations you make through the website or call center, it provides all the controls of your vehicle without landing in the city and offers you a safe journey. Having the opportunity to deliver the car you have rented not only to the relevant branch but also to the Main branch in a different location increases your comfort.

Set off to Antalya
Antalya; It is a very special destination known for its waterfalls, mysterious caves, wonderful beaches and magical ancient cities. "What to eat in Antalya?", "Where are the historical places of Antalya?" and "Which Antalya beaches should be visited?" The most frequently asked questions such as those who know this city best; We asked the people of Antalya and got their suggestions. As a result of the variety of suggestions we received, we agreed that the first thing to do in order to visit the unique places of Antalya and have fun to the fullest is to rent a car. You can easily do the Antalya car rental process from the Main Antalya car rental office. After your Antalya car rental process, you can plan your travel route by evaluating these suggestions.


What to Eat in Antalya?
What to Eat in Antalya?
Antalya, which is one of the most popular cities of the Mediterranean Region, dazzles with its rich cuisine. In this city, where every corner is a separate paradise, the famous spread pastry, delicious piyaz, Cretan Kebab with artichokes, Hülüklü soup, cive food, Arabian kadayıf, hibeş, stuffed laba, Alanya bundle, Finike banana dessert, bagels, Taurus salad and many other local delicacies are to be discovered. waiting. Of course, it is recommended to try kebab varieties as well as Mediterranean olive oil dishes!


Where to Have Breakfast in Antalya?
Where to Have Breakfast in Antalya?
In Antalya, where the enchanting effect of blue and green is felt, there are breakfast places with options suitable for every taste and every budget. Pancakes, flatbreads, mixed breakfasts and more are served at Antalya breakfast venues. The last word is yours as always, you can make the most appropriate choice according to how you want to start the morning.


Where to Eat in Antalya?
Where to Eat in Antalya?
Antalya, which has a magnificent atmosphere with its natural beauties and historical texture, promises a completely different pleasure for dinner. In the city, which has a very rich variety in terms of authentic, shabby and luxury restaurants, it is possible to try both local flavors and exquisite tastes from world cuisine. Since there are many preferred restaurants in almost every district, it is recommended to choose according to which district you will have your dinner in.


Places to Visit in Antalya
Places to Visit in Antalya
Olympos Beydağları National Park, which is approximately 40 km from the city center, should be one of your first stops in Antalya. The park offers the opportunity to see all the beauties of Antalya together. Ancient cities of Phaselis and Olympos; Yanartaş, Çıralı and Adrasan beaches are just some of the beauties waiting for you in this huge park. Offering the opportunity to spend a day in the lap of nature, the park is also one of the ideal camping areas of the Mediterranean.


Kaş district, which is approximately 200 kilometers away from Antalya, is a very, very special place where you should spend at least one day. The ancient cities of Antiphellos, Simena and Xanthos, the rock tombs in Demre, the sunken city in Kekova are among the places that the people of Antalya recommend you to see in Kaş. Patara, one of Turkey's most beautiful beaches, is also a must-see in Kas. Even though it is crowded in the summer months, Patara takes on a unique atmosphere in the winter months and becomes the center of romantic walks.


Those who will spend the day in the center can prefer Konyaaltı or Mermerli beaches to have a cool break. Lara Beach, which is 20 kilometers away from the center of Antalya, and Belek, 45 kilometers away, are recommended beaches for sea pleasure.


Historical Places of Antalya
Historical Places of Antalya
One of the places that should be on your list of historical places to visit in Antalya is Side, which is about 80 kilometers from the center. The region, which we recommend to spend at least half a day, is a real treasure for those interested in history and architecture. The Ancient City of Seleukeia and the Temple of Apollo are among the places that the people of Antalya recommend you to see in Side.


Aspendos Bridge, 35 km from Side, is one of the places worth seeing. Also, when you come to Side, let us remind you that you should see the Manavgat Waterfall, 9 kilometers away.


It may also be pleasant to stop by Aspendos, which is 36 kilometers away after Side. The theater built by the Romans in the 2nd century AD is the most magnificent part of Aspendos, which was founded by the Achaeans in the 10th century BC. You would not be able to fully explore Antalya without seeing this impressive structure.


Nightlife in Antalya
Antalya is known not only for its historical and natural beauties, but also for having the most vibrant nightlife in the Mediterranean region. If you are going to spend the night in the city center, Kaleiçi is the recommendation of the people of Antalya. There are many bars in this region that smells of history. Antalya directs the nightlife not only with its city center but also with its hotels in Alanya, Belek, Kemer and along the coastline. In almost every period of the year, the region is flooded by local and foreign tourists.


Antalya Car Rental
Antalya car rental from Main Antalya Airport car rental office You can make your transaction and then explore the city with pleasure. You can make your reservation by phone or on our website to rent a car in Antalya.