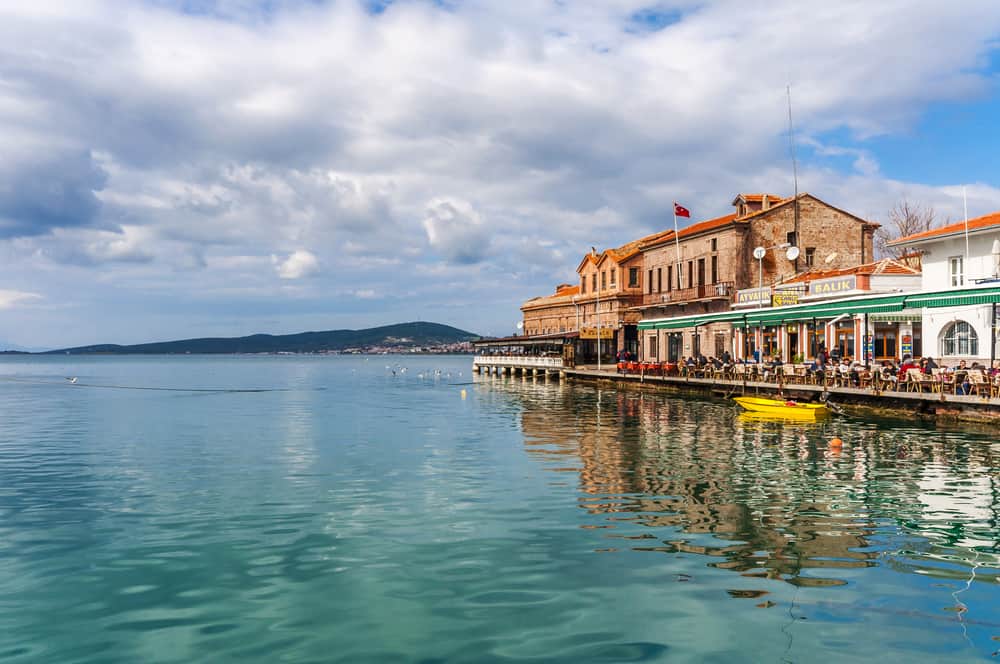 A Day in Ayvalık
Renting a car in Ayvalık should be at the top of your to-do list in this charming Aegean town. Because Ayvalık is a very generous location for places to visit. By making your car rental in Ayvalık, you will be able to use the time you spend here more efficiently and you will see every place on your list in one day. You can quickly make the car rental process from the Main Ayvalık Rent a car office. So, what are the places to visit in Ayvalık? Where should one not leave the district without seeing? What to eat in Ayvalık? We asked the residents of Ayvalık the answers to these questions and we prepared a guide for you with the answers we received.
What to Eat in Ayvalık?
Cibez grass, sea cowpea, chicory, nettle salad, stuffed zucchini flowers, radish grass and more… Delicious Aegean herbs stand out as the stars of Ayvalık cuisine. Locals recommend that you eat fish alongside appetizers prepared with these delicious herbs. Papalina, sea bass, sardines and sea bream are the favorites of the tables. You should definitely eat Ayvalık toast, curd dessert and ice cream for breakfast.
Breakfast in Ayvalık
At the top of your to-do list was car rental in Ayvalık. Now that you have rented your vehicle, you can proceed to the second item. Devil's Table Hill is the common recommendation of everyone for breakfast in Ayvalık. You will understand much better why this is a common recommendation when you see the magnificent view of the Devil's Supper. You can have a sumptuous breakfast accompanied by the view of Mytilene and Ayvalık on the hill, which is believed to have the devil's footprints and resembles a table. While the breakfast tables, which always include natural and homemade products, offer a delicious feast of taste, you can choose the famous Ayvalık toast for a lighter breakfast.
Lunch in Ayvalık
We recommend you to stop by Alibey Island, which is about 9 km away from the center, especially for lunch. On the island, also known as Cunda, you can choose places that are assertive about fish and appetizers. Mackerel gyros, fish bacon, squid with zucchini, steamed white sauce, zucchini flower pastry and cheddar kidonya are some of the flavors you must try at lunch.
Places to Visit in Ayvalık
After the sea, it was time to see the historical places of Ayvalık. We recommend you to see Taksiyarhis Church, Ayazma Church and Saatli Mosque in the center, which draws attention with its architectural texture. If you wish, you can start your cultural tour by seeing the structures of Cunda blended with Greek and Turkish architectural styles, and then continue your tour in the center.
Evening Enjoyment in Ayvalık
You left behind a wonderful day in Ayvalık. It's time to end this beautiful day with a wonderful evening. You can watch the sunset on Alibey Island or at the Devil's Table. Prawn ravioli, sea urchin appetizer, sardines in vine leaves, fish sauce, octopus salad, cutlet cutlets, papalina, Cretan appetizers are some of the delicacies that will accompany your wonderful view.
Nightlife in Ayvalık
If you still have energy, you can stop by the street of bars. Greek taverns in Cunda are also among the entertaining options for the night.
Ayvalik Car Rental
After making your car rental transactions from Main Ayvalık rent a car office, you can discover the beauties of the city more comfortably and quickly. You can make your car rental reservation in Ayvalık by phone or on our website.